About CPPM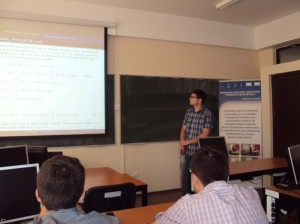 Our center has at its disposal a 15 computer network together with a server, wifi and media utilities (projector, interactive table and copy machine).
We host the preparation meetings for the "Gheorghe Asachi" University students who take part at any national or international contest.
Beside our exceptional national results, we can mention, that in the last two years our university team has participated to national olympic contests in Bulgaria, Cyprus, Greece, Israel and Hungary. The total of our results are 3 gold medals, 12 silver medals and 25 bronze medals.
Here we also host beginner level courses for software training (Matlab, Mathematica, Maple, LaTex) with our Ph.D students and staff.
CPPM Members
Lect. dr. Marcel Roman – coordonator
Conf. dr. Ariadna Lucia Pletea
Conf. dr. Radu Strugariu
Lect. Silviu Nistor
Lect. dr. Marius Pasa
Lect. dr. Marian Pantiruc
Program
Contact CPPM