CPPM – Mathematics Performance Training Center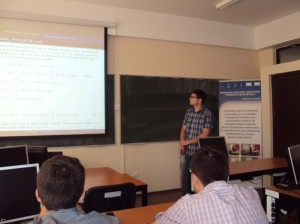 CPPM hosts the preparation meetings for the "Gheorghe Asachi" University students who take part at any national or international mathematical contests.
Here we also host beginner level courses for software training (Matlab, Mathematica, Maple, LaTex) with our PhD students and staff.
Facilities
Our center has at its disposal a 15 computer network together with a server, wifi and media utilities (projector, interactive table and copy machine).
CPPM members
Marcel Roman – coordinator
Marian Panţiruc
Ariadna-Lucia Pletea
Daniela Roşu
Radu Strugariu
Contact CPPM